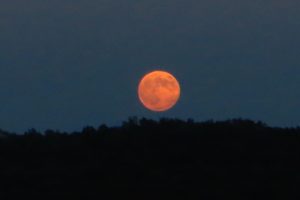 It's been on Bob's bucket list for years to write a love song for Cheryl that gets recorded by a popular artist.  It wasn't getting done because melodies just wouldn't come, despite lots of experimenting at the piano.  So the occasional love poetry remained poetic but unmelodic.
For Valentine's Day in 2017, Bob wrote a poem for Cheryl entitled, "The Moon Is Ours Tonight," and he thought it had special potential to become a song.  However, his efforts to create an original, appealing melody continued to be unsuccessful.
Then something magical happened.  One of our favorite singer-songwriters, Erin Bode, wrote in her newsletter that she had recently recorded an arrangement of someone's favorite song for them, and she was accepting requests to do the same for others.  Bob sent her his poem and asked if she would consider putting it to music.
Erin replied that she would be happy to do so and that she really liked the poem.  She got help from Viktor Krauss, a Grammy-winning musician in Nashville, who has produced other recordings for Erin.  He assisted with the composition and also produced the song in his Nashville studio.
The result is beautiful beyond our dreams.  It is a tremendously sweet song, and Erin's voice enhances it exquisitely.  "The Moon Is Ours Tonight" is available on iTunes, Spotify and several other sources.  We hope you love it as much as we do.
P.S.  We were on TV with Erin!  Heidi Glaus of Show Me St. Louis interviewed Erin and us at Erin's home for a segment of her show.  Here is a link to that segment:  Show Me St. Louis segment